Sleek, Advanced Squarespace Forms with Formstack
Meet Formstack. We work with Squarespace to offer sophisticated online forms for your growing business.
More Powerful Data Management
than Squarespace Forms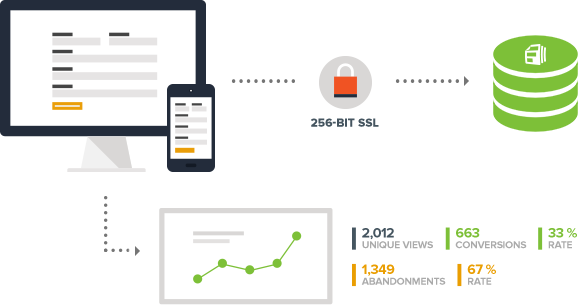 The Squarespace form builder doesn't store your form submissions, only emailing or (for paid customers) adding them to a Google Spreadsheet. All Formstack submissions are safely stored in your account. Protect sensitive information with data encryption. Share submissions with a link, or export them.
Get powerful form analytics with Formstack's Google Analytics plugin and in-app metrics. Activate analytics with no coding needed, unlike Squarespace forms. Track form views, abandonment rates, and referral sites. Field bottlenecks identify questions causing visitors to leave your form. Marketer-friendly analytics boost your campaign performance.
3 Things You Can't Do with Squarespace Form Builder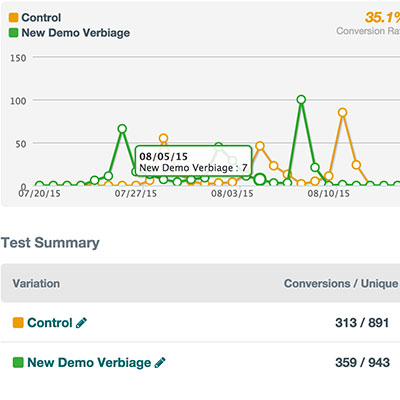 Optimize For More Conversions
Squarespace's form builder doesn't provide advanced form optimization tools. Formstack's Partial Submissions tracker lets you gather data on your forms even if users never hit submit. We also provide A/B testing so you can compare different form elements to see what gets the most conversions.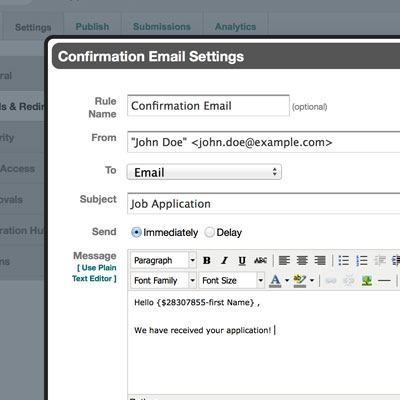 Communicate with Customers
Squarespace has one email option. Formstack users can create custom Confirmation Emails to trigger automatically with form submissions. Additionally, Formstack integrates with 7 email marketing platforms, including AWeber, MailChimp, and Constant Contact.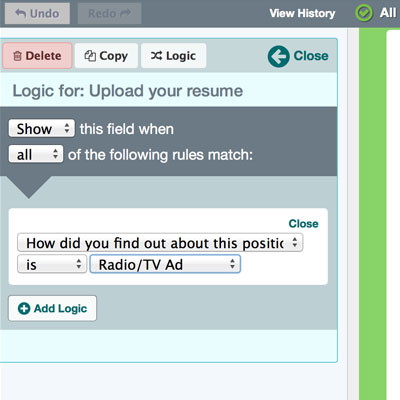 Build Sophisticated Forms
Squarespace has only basic form features and fields. Reduce form friction with Formstack's Conditional Logic or Save and Resume functionality. Advanced fields include file upload, event field, electronic signature, and calculating fields.
Formstack is your best bet for Squarespace forms.
We offer easy-to-use integrations and marketer friendly features. Use this handy chart to see how we compare alongside our competitors.
Formstack

Squarespace

Wix

Weebly

Adobe® FormsCentral

Wufoo

Payment Integrations

11
1
0
3
1
10

Email Integrations

7
1
0
0

Marketing Integrations

40+
1
0
0
0
12

256-Bit SSL

(security)

Full HTML Access

(customizable)

Mobile-ready

(responsive)

Upload Files

Save & Resume

Conditional Logic

Calculating Fields

Field Validation

Digital Signatures

ADVANCED FEATURES

Google Analytics

Facebook Embed

Webhooks & Open API

Approval Workflow

Sub-Accounts

Email Logic Routing

Admin Brand Control

FEES & DISCOUNTS

No Overage Charges

Annual Discount

Nonprofit Discount




Notice an error in our data? Please let us know.
Stop settling for basic forms.
Sign up for a free trial of Formstack and explore more forms and features.
"Formstack is awesome, easy-to-use and jam-packed with useful features and integrations"
"We needed a simple solution to compile data into a database, but we also wanted a functionality similar to Formstack's new Approval Workflow feature. Formstack was definitely the most user-friendly."
"We are all about good process and integration – this is what Formstack gives us."