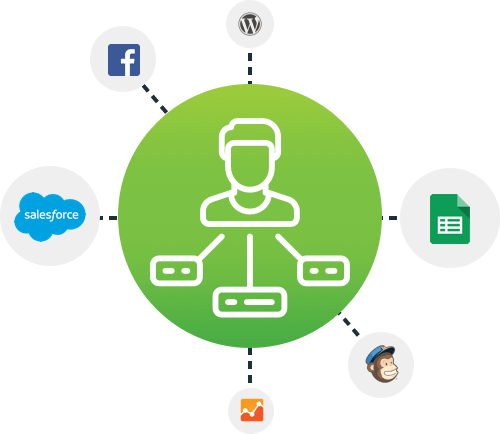 Simplified Workflow Management
Streamline your organization's workflows with powerful web forms.
Try It Free
No matter what organization you work for, there are countless internal processes to handle. You have hiring tasks to manage, customer data to update, projects to critique, and internal requests to review. All of these tasks can get overwhelming, especially if you're handling a majority of your internal processes on paper, through email, or within meetings. However, the solution can be quite simple. At Formstack, we've helped countless businesses automate their process workflows with a powerful form builder and 40+ web app integrations. Our Approval Workflow feature makes it easy to work smarter and accomplish more with your business.
Simplify your processes
Online forms open up a world of possibilities for managing daily tasks. With Approval Workflow, you can build forms like PTO requests, feedback requests, job applications, and project approvals, and route submitted form data directly to a team member's email for their review and approval. This process cuts the need for paper, ensures information gets to the right people, and helps your team work through processes much faster.
Ensure information gets in front of the right people
Nothing is more frustrating then when a project gets lost in the clutter and no one knows who needs to approve what. Approval Workflow simplifies this process by letting you set up multiple approvers to approve or deny a form submission. So, if you have a project that needs to be approved, the project link can be submitted to a form and routed to your manager's email for quick verification and review. This ensures that projects get done when they need to and your whole team is on the same page with your data.
Keep your internal data secure
When you're working through internal processes, you're sharing and reviewing a lot of sensitive data. Ensure that important information only goes to a select group of people by setting up permissions with Approval Workflow. Added security features like 256-Bit SSL, data encryption, PGP email encryption, password protection, and CAPTCHA ensure that your data remains secure throughout the approval process.
Use resources more efficiently
Once you've created your forms and set up your approval process, you'll find that you have more time to get other tasks done. While you're taking care of other priorities, submitted form data will be sent directly to team member's inboxes for their review and approval. There's no need for them to sign in to Formstack. All they need to do is click "Approve" or "Deny" directly from their email. Additional comments on why a submission was approved or denied can be included with the comment system. Learn more about our Approval Workflow feature and how to set it up here.
Twinings was able to save two days worth of work from their internal finance processes by using Formstack's Approval Workflow feature. Learn how they did it.
Be More Productive
Use these form templates to automate your processes.
The industry standard for process automation.
"I look at Formstack like a bucket of legos. It's got all these pieces, and it's just up to our imagination to figure out exactly how to use them."

Josh Haroldson, Marketing Manager, KleenMark

"We use Approval Workflow to pass qualified webinar submissions into our CRM integration. The feature has helped cut time and increase efficiency in signing people up for our webinars."

Ashley Buley, Marketing Specialist, SunGard Public Sector
Work smarter with Formstack.
Sign up for a Formstack 14-day FREE trial to
start improving your internal workflow management today.
Try it Free