High-Converting Forms for
Landing Pages
Complete the perfect landing page with optimized landing page forms.
An optimized landing page form will capture the essential data your team needs to convert more leads. Since forms are the gateways to conversion, you need to make sure you build and optimize them the right way to make your landing pages successful. Below are the basics you'll need to make your landing page form a success.
Form building takes forever
(if you do it yourself...)
Building a form from scratch takes a lot of hard work. Coding is complicated, and just one tiny error can cause your landing page form to not work properly and drive away conversions.
This is why you should use a form builder. Solutions like Formstack's drag and drop builder let you easily drop form fields onto a form template without any coding headaches included.
If you'd like more information on how to use a form builder, check out this quick webinar called "Formstack 101: Form Building".
Data collection takes more than a form.
Quick and easy form building is important, but there are so many more form tools you can use to make data collection a piece of cake.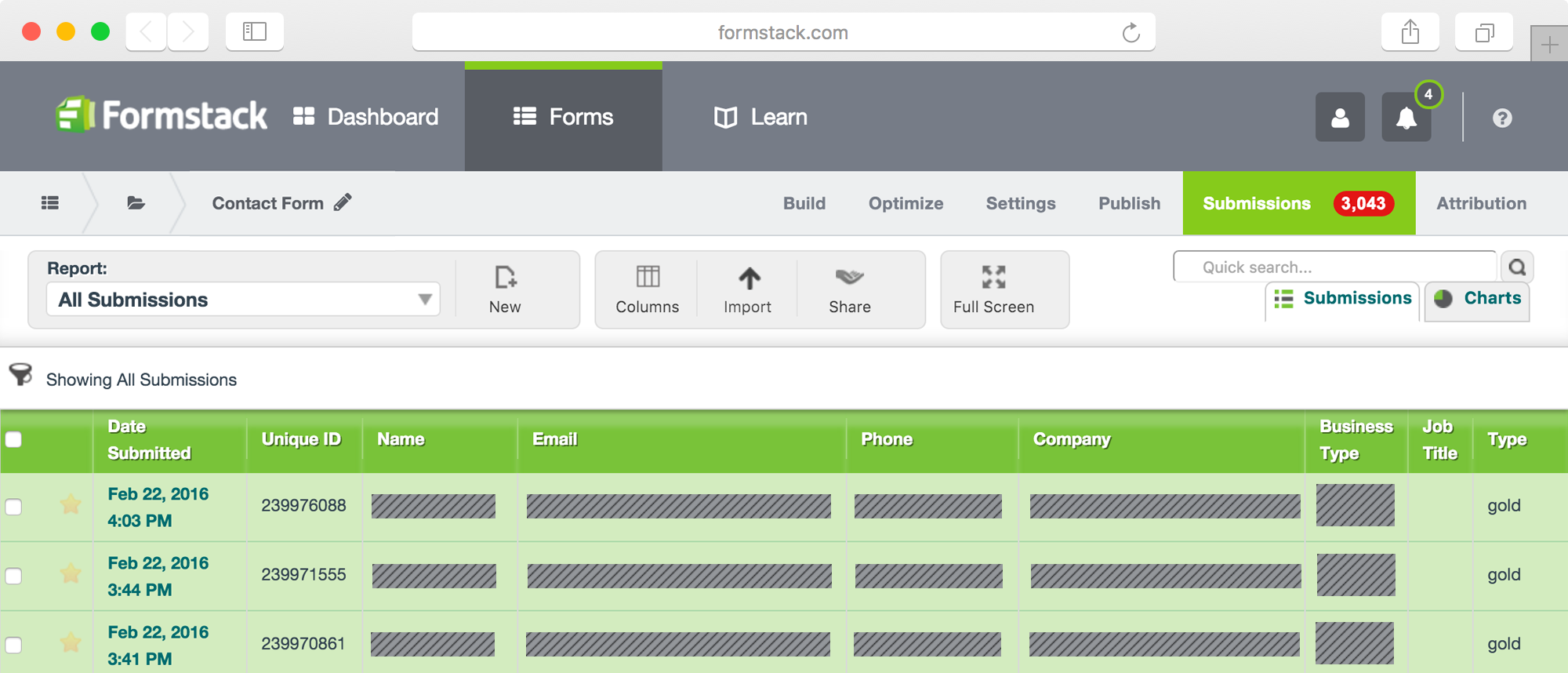 Form Embedding
Once you build your landing page form, you need to embed it on your page. There are many different ways to embed landing page forms, but you usually just need an embed code that can be pasted where needed. Other embed options include linking, lightboxes, and QR codes.
Submission Table
It can be hard to organize and analyze your data if it's scattered across different systems. Solve this problem by compiling all of your form data in one place for easy access. Formstack's submission table (above) can help you organize your data and provide extra insights on user behavior.
Notification Emails
Confirmation and notification emails are messages that you can send to users to let them know that a submission has been received. To use them, all you need to do is set up your landing page forms to automatically send out emails upon submission and customize your message.
Form optimization boosts conversions.
Use optimization tools to improve your landing page forms and increase conversion rates. A/B Testing
A/B testing involves comparing two versions of a form against each other to see which one gets more conversions. Formstack's A/B Testing feature lets you test button copy, colors, form placement, and more to see what drives results.
Social Autofill
Lengthy forms are a huge deterrent to conversions. A feature like Social Autofill makes it easy for users to fill out forms by letting them prefill form fields with their social profiles. We've found that this can increase conversions by as much as 189%! Campaign Tracking
To ensure your efforts are not wasted, you should track all of your landing page forms to figure out which ones are successful. Make this process easy by compiling all of your data in one place, like your CRM or Formstack's in-app analytics dashboard.
5 Easy Ways to Use Formstack Tools for Conversion Rate Optimization
Create an optimized landing page form today.
Try Formstack free for 14 days to create your own custom online form and complete your perfect landing page.
Try It Free