How it works
Formstack is an easy to use online form builder that lets you create and brand forms with no coding knowledge. Even more, we're a tool that helps you manage your online brand more effectively.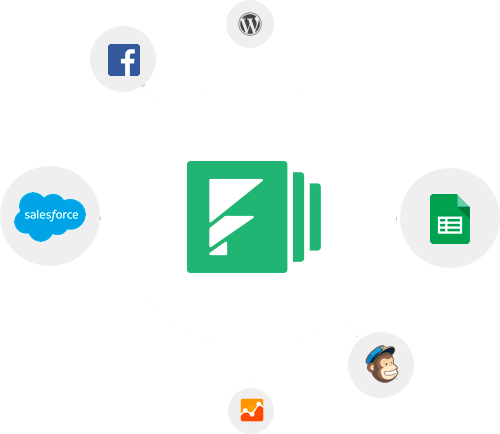 We're here...
every step of the way.
Formstack helps you create powerful online forms within minutes, allowing you to collect information, payments, registrations, etc., in one centralized location. All form submissions are stored in our secure database, ready for you to retrieve and create reports in a snap.
How easy online form building works
Formstack has developed an easy form building tool that allows you to create incredibly useful, great looking online forms within seconds. (Yes… seconds.) Here's a breakdown of what you'd experience when you launch your 14-day free trial.
1
Select your path
Start by selecting one of our pre-built forms or use our Field Guide, which will help you every step of the way. Are you a do-it-yourself type? No worries, we have a blank slate ready for your form building artistry.
2
Build your first form
With our easy drag-and-drop tool, you can easily pop different fields (name, email, etc.) in and out of your online form template. You can even add your company logo or an image to boost brand awareness. For additional help, check out our Ultimate Guide to Online Form Design.
3
Customize to your needs
Dig a little deeper into our features and integrations to make sure you're getting the most out of your collected data. Send information to third-party integrations so that you can automate your collection process. You can also set up confirmation emails and customize one of our themes to match your brand.
4
Publish the URL link
Once you are finished with editing, you are now ready to publish your form! You'll receive a URL link that goes directly to the form you created. Since it's a live link, any time you make changes to the form, those changes will be updated immediately! You also have the option of embedding the form onto your existing site.
5
Share with your audience
In order to maximize the amount of submissions you receive, be sure to take advantage of our social buttons, allowing you to share your form online through your various social networks like Facebook, Twitter, and LinkedIn.
Over 500,000 people trust Formstack to
help them reach their goals.
"Formstack started as a way for me to easily build lead gen forms on our website. Today, nearly every single department uses it nearly every single day to capture data."

Josh Haroldson
Marketing Manager at KleenMark

"Formstack is powerful. We were able to increase signups by 114% and save over 50 hours of development time with just one Formstack form."

Erik Gonzalez
Founder & Director of Internet Marketing at Miami Web Company

"Formstack will convert more traffic than any other online form builder.
You need this app in your toolkit."

Jay Baer
Founder at Convince & Convert
Customize, brand, & launch
your own online form in seconds.
Create signup forms, surveys, order forms, event registrations, and more with a Formstack 14-day FREE trial.
Try It Free